RDW SCREEN, AUTO SCREEN - Reverse Dutch Weave Made Of High Tensile Strength stainless steel wire.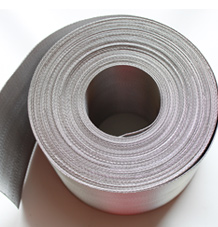 No Dust Filtration Products, Inc. (NDFP) offers Reverse Dutch Twill Weave Wire Cloth to be used in auto screen changers employed by the extrusion processes of the plastics industry. Reverse Dutch Weave (RDW) Screen is a very strong woven product in which the larger count of wires is found in the warp and the smaller count in the shute, thus reversing the method used in plain dutch weave, twilled dutch weaves. Woven Wire Cloth in both/Reverse Dutch Weave (RDW) Screen/Reverse Dutch Twill Weave Woven Wire Cloth

Filter ribbons are furnished in rolls with a standard length of 120' (36.5 meters) or 60' (18.3 meters). The yield of such a roll is equivalent to several hundred 'screen packs' in a conventional screen changer and lasts many months in non-stop operation. Filter Ribbons Are Woven from high-tensile strength stainless steel wire, in the Reverse Dutch Twill pattern. filter ribbons can be used with all screen changers of similar design, and can be supplied in non-standard widths and lengths to suit the customer's needs. We also supply filter screens for all other makes of ribbon-style screen changers. Please contact our screen department for more information.

The following chart lists the standard mesh screens


Made of high tensile strength, stainless steel wire
Particle size retention*
 
Weave**
Microns
Inches
Equivalent "Square Mesh" Value
A
48/10-P
400
.0160"
48
B
72/15-P
300
.0120"
62
C
72/15-Y
250
.0100"
70
D
132/14-P
220
.0090"
78
E
132/14-Y
200
.0080"
85
F
132/18-P
175
.0070"
90
G
132/18-Y
160
.0065"
95
H
152/30-P
130
.0050"
120
I
152/30-Y
115
.0045"
135
J
250/40-P
90
.0035"
180
K
250/40-Y
75
.0030"
200
L
338/37-Y
55
.0022"
280
M
400/120-Y
30
.0012"
500

* Particle size is the diameter of the smallest particle that will be caught and retained by the screen.
** Reverse Dutch Twill weave.
No Dust Filtration Products, Inc. (NDFP) - Reverse Dutch Weave (RDW) Screen
Let the experienced parts representatives at NDFP quickly and efficiently address the needs of your specific operation and supply you with the Reverse Dutch Weave (RDW) Screen designed to perform reliably and efficiently for your trouble-free operation. The No Dust Filtration Products Team will assist you in making your processing operation a reliable and efficient operation.